Alan Robinson | VetDynamics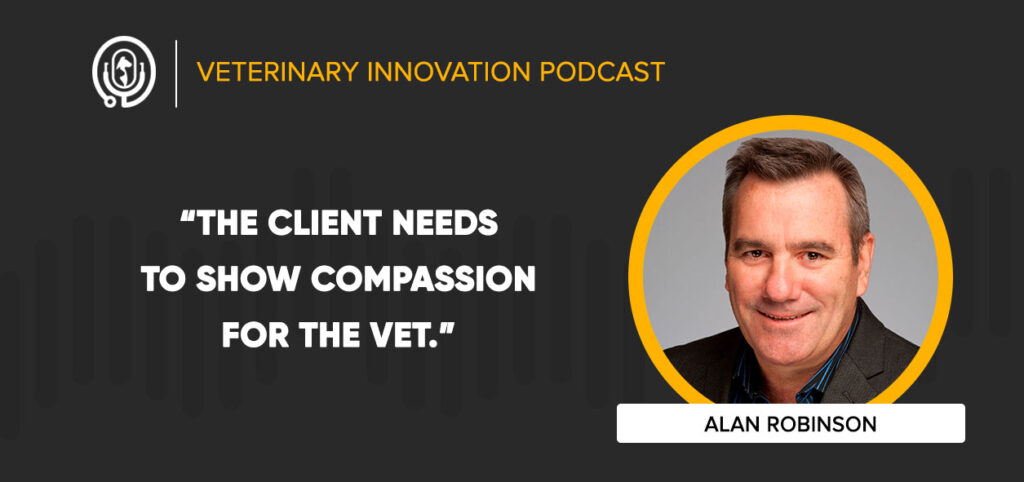 In This Episode
A recent study has found that there is an inverse correlation between client satisfaction and the mental health of veterinary staff. Veterinarians with higher levels of empathy for their clients are at a greater risk of developing burnout. How might this issue be mitigated or resolved?
This week on the Veterinary Innovation Podcast, Shawn and Ivan speak with Alan Robinson, the Owner of VetDynamics, on how higher levels of empathy causes burnout in veterinary staff, how veterinarians can find balance, both personally and within the clinic, and why veterinary clinics should be looking for high-quality clients.
Mr. Robinson recommends The Self-Worth Safari: Valuing Your Life and Your Work by John Niland.
Additional Resources
The Complex Relationship Between Veterinarian Mental Health and Client Satisfaction
Jennifer L. Perret*, Colleen O. Best, Jason B. Coe, Amy L. Greer, Deep K. Khosa and Andria Jones-Bitton
Front. Vet. Sci., 25 February 2020 | https://doi.org/10.3389/fvets.2020.00092
Topics Covered
The Danger of Being Empathetic
How Vets Can Find Balance
Why the Veterinary Business Model Doesn't Work